The ICAR West Zone Sports Tournament 2014 was organized successfully at CAZRI, Jodhpur during November 20 –24, 2014. A total of 527 sports persons and officials from 16 ICAR institutes viz. CAZRI, Jodhpur, CIAH Bikaner, CIFE Mumbai, CIRCOT Mumbai, CSWRI Avikanagar, DGR Junagadh, DOGR Pune, DRMR Bharatpur, ICAR RC Goa, IGFRI Jhansi, NIASM Baramati, NRCAF Jhansi, NRCC Bikaner, NRCC Nagpur, NRCSS Ajmer and ZPD VI Jodhpur from the West Zone of India participated in the tournament. Outdoor sport events were organized at CAZRI Sports Ground while indoor events at Gaushala Sports Complex, Jodhpur.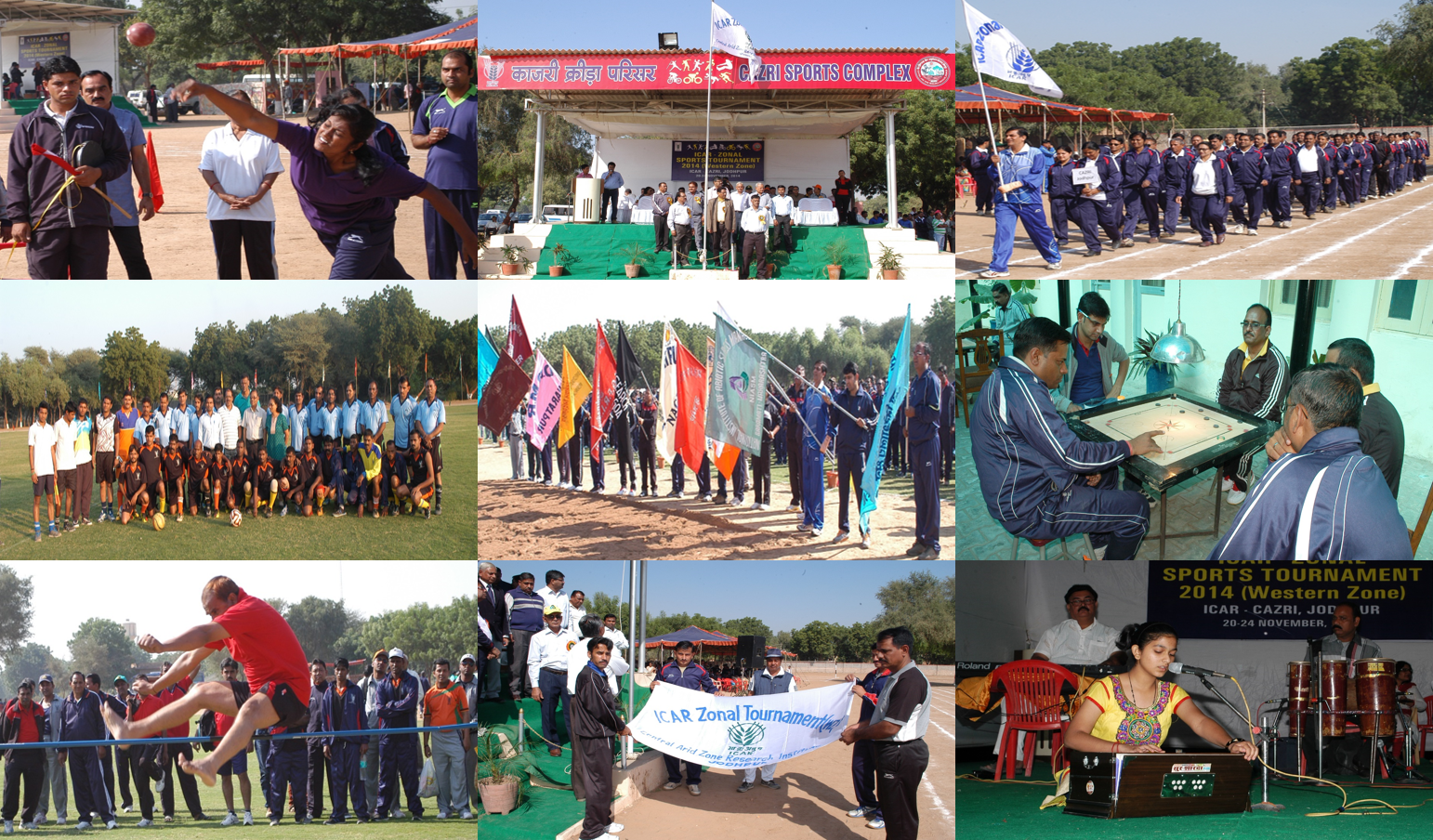 The chief guest of the opening ceremony on 20th November, 2014 was Dr. B.S. Raj Purohit, Vice Chancellor, JNV University. At the outset, the programme was started by ICAR song followed by welcome address by Dr. R.K. Bhatt, Head of Division and Director (I/C), CAZRI. The ICAR zonal sports flag was hoisted by Dr. B.S. Rajpurohit, followed by spectacular march past by the participants on melodious tunes played by the Rajasthan Police Band of Jodhpur. Hailing the CAZRI's contribution for the development of arid region in general and arid agriculture in particular, Dr. Rajpurohit, Chief guest complimented the efforts of CAZRI in organizing the sports meet so successfully. He appreciated the efforts of CAZRI to develop lush green sports ground, providing a perfect panoramic view to the sports complex, foundation of which was recently laid by honorable MOA, New Delhi.  He also emphasized the importance of such sports tournament for team building and creating better working environment. Subsequently, participants took the tournament oath. Dr. Anurag Saxena, Secretary, Organizing Committee proposed the vote of thanks.
Various athletic events organized in the tournaments included races of 100 m, 200 m, 400 m, 800 m, 1500 m for men; 100 m and 200 m for women; shot put, javelin throw, discus throw, long jump and high jump for both men and women. Badminton, basketball, table tennis, kabaddi, football, volleyball (smashing & shooting) were played as team event for men while badminton and table tennis were individual events for women. In addition, carom and chess were played as individual events for both men and women. In the evening, a cultural programme was organized on the inaugural day in which CDM and some of the sports persons also performed and added to the great success of the most memorable musical evening.
The five Day long ICAR Zonal Tournament was concluded on November 24, 2014 with Dr. Y.V. Singh, Director, Zonal Project Directorate Zone VI, Jodhpur as the Chief Guest of the Closing Ceremony and Dr. M.M. Roy, Director CAZRI presiding the function. The final event, 4x100 m Relay Race for men held before the closing ceremony added to glory of the function. Dr. M.M. Roy complimented the participating Institutes for their exemplary discipline and sportsmanship during the event that no single case was referred to jury. Dr. Anurag Saxena, Organizing Secretary presented the brief report of the tournament. Dr. Y.V. Singh in his address stressed upon the importance of sports and sportsmanship in bringing the oneness among the ICAR family. Trophies and medals were awarded to winner and runners up. Ms. Mathala J. Gupta, ICAR RC, Goa and Mr. Manjunath Gouda, DOGR, Pune were adjudged as Best Women and Men Athlete, respectively. The overall Championship was won by CAZRI, Jodhpur for outstanding performance in various sports events. Few selected sports persons were felicitated for their outstanding lifetime contribution in ICAR sports.  The programme was conducted by Dr. R.K. Kaul and Sh. Gaje Singh Jodha. Sh. S. Ansari proposed vote of thanks. Finally, the tournament was declared closed by the chief guest and the ICAR zonal sports flag was handed over to the Chairman, Organizing Committee.
(Source: ICAR-CAZRI, Jodhpur)